Ludwigsburg / Immenstadt, Germany – A 3D-printing premiere: together with the Karlsruhe Institute of Technology (KIT) and the chemicals company BASF, Bosch has successfully produced the first-ever 3D-printed microreactor made of technical ceramics. Microreactors are devices for housing chemical reactions. In terms of heat, stability, and corrosion, few materials can withstand the extreme conditions caused by high-temperature chemical reactions. "To control and monitor a chemical reaction, a reactor needs to have hardness, heat resistance, and complex structures inside," says Klaus Prosiegel, sales manager at the Bosch startup Advanced Ceramics, based in southern Germany. "3D-printed technical ceramics bring these excellent properties to the table."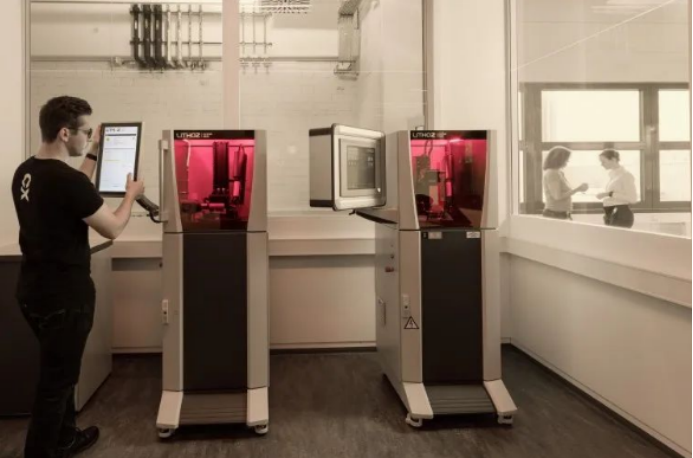 Premiere 3D-printed ceramic reactor
Many applications for technical ceramics
The market research company Data Bridge forecasts that the global market for technical ceramics will be worth around 16 billion euros by 2029. This versatile material is in demand in a wide range of industries: in medicine, it is used in bipolar scissors, which can cut tissue and stop bleeding at the same time. Electric current flowing through the two metallic halves of the scissors heats the tissue and seals it. An insulator made of technical ceramics ensures that the two metallic blades do not cause a short circuit when the scissors are closed. This makes surgery faster and safer. In mobility, the extreme heat resistance and ion conductivity of technical ceramics makes them ideal for use in fuel-cell stacks, among other applications. In addition, distance sensors that help with parking are also made of technical ceramics. Another area of application is grinders for fully automatic coffee machines. Here, the material's extreme durability and hardness ensures that the grinding effect remains the same over time, with no material abrasion that could affect the taste of the coffee. "We have products on the market in all these areas," Prosiegel says.
Premiere: 3D-printed ceramic reactor
Bosch Advanced Ceramics was well aware that technical ceramics are also very well suited for chemical reactions. "The challenge, however, was to find a process that was capable of producing the complex structures inside a ceramic reactor," Prosiegel says. To solve this task, the startup's ten-strong team combined their company's two core competencies: technical ceramics and 3D printing. "We've successfully employed 3D printing to produce ceramic components that can't be made by conventional means," he says.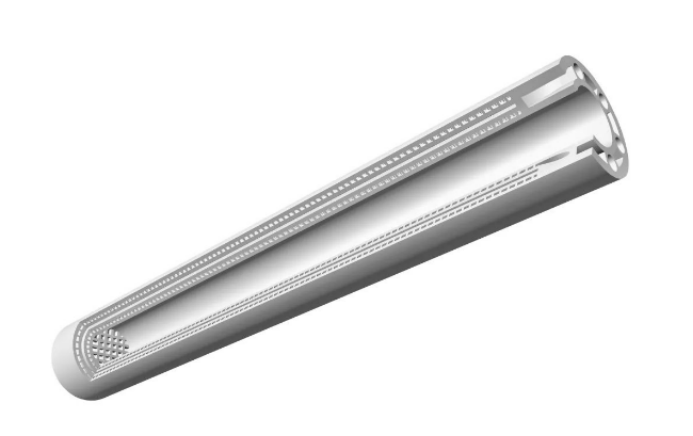 Cross section of ceramic reactor
BASF is now using this microreactor in basic research, since it allows to monitor chemical reactions under ideal temperature conditions. Furthermore, it requires fewer raw materials and less energy than large reactors. Experts can analyze these small-scale results and extrapolate them for large-scale implementation. "This is just like a chef trying out a new recipe on a small scale first before putting the dish on the menu," Prosiegel says. That is why the next step is to print 10 to 20 more reactors with the same design for BASF. In view of the conceivable further potential applications for technical ceramics in the chemicals sector, Prosiegel sees a bright future ahead: "After all, almost every laboratory crucible is made of technical ceramics," he says. It will be a while before he and his colleagues run out of work.
Bosch startup platform grow
Bosch Advanced Ceramics is part of grow, Bosch's in-house startup platform. With locations in Europe, the Middle East, Africa, Southeast Asia, India, China, Japan, North America, and South America, grow is the global home for startups within the technology company. Worldwide, the startup platform currently has ten projects in the incubation phase.
Further information on Bosch Advanced Ceramics is available online.
Contact persons for press inquiries:
Xiao Zhiyu
Phone: +86 21 2218 1450
About Bosch:
In China, the Bosch Group manufactures and markets automotive original equipment and aftermarket products, industrial drives and control technology, power tools, household appliances, security and communication systems as well as thermotechnology solutions. Having established a regional presence in China in 1909, Bosch employs more than 55,000 associates (as of December 31, 2021). Bosch in China has generated consolidated sales of CNY 128.6 billion in fiscal 2021.
Additional information is available online at www.bosch.com.cn.
The Bosch Group is a leading global supplier of technology and services. It employs roughly 402,600 associates worldwide (as of December 31, 2021). The company generated sales of 78.7 billion euros in 2021. Its operations are divided into four business sectors: Mobility Solutions, Industrial Technology, Consumer Goods, and Energy and Building Technology. As a leading IoT provider, Bosch offers innovative solutions for smart homes, Industry 4.0, and connected mobility. Bosch is pursuing a vision of mobility that is sustainable, safe, and exciting. It uses its expertise in sensor technology, software, and services, as well as its own IoT cloud, to offer its customers connected, cross-domain solutions from a single source. The Bosch Group's strategic objective is to facilitate connected living with products and solutions that either contain artificial intelligence (AI) or have been developed or manufactured with its help. Bosch improves quality of life worldwide with products and services that are innovative and spark enthusiasm. In short, Bosch creates technology that is "Invented for life." The Bosch Group comprises Robert Bosch GmbH and its roughly 440 subsidiary and regional companies in some 60 countries. Including sales and service partners, Bosch's global manufacturing, engineering, and sales network covers nearly every country in the world. With its more than 400 locations worldwide, the Bosch Group has been carbon neutral since the first quarter of 2020. The basis for the company's future growth is its innovative strength. At 128 locations across the globe, Bosch employs some 76,100 associates in research and development, of which more than 38,000 are software engineers.
The company was set up in Stuttgart in 1886 by Robert Bosch (1861–1942) as "Workshop for Precision Mechanics and Electrical Engineering." The special ownership structure of Robert Bosch GmbH guarantees the entrepreneurial freedom of the Bosch Group, making it possible for the company to plan over the long term and to undertake significant upfront investments in the safeguarding of its future. Ninety-four percent of the share capital of Robert Bosch GmbH is held by Robert Bosch Stiftung GmbH, a charitable foundation. The remaining shares are held by Robert Bosch GmbH and by a corporation owned by the Bosch family. The majority of voting rights are held by Robert Bosch Industrietreuhand KG, an industrial trust. The entrepreneurial ownership functions are carried out by the trust.
Declaration: This article is provided by CERADIR™ users or obtained from Internet, the content does not represent the position of CERADIR™. We are not responsible for the authenticity/accuracy of the article, especially the effects of the products concerned. This article is for study only, it does not constitute any investment or application advice. For reprinting, please contact the original author. If it involves the copyright and/or other issues, please contact us and we will deal with it asap! CERADIR™ has the interpretation of this declaration.